Nov
17
2023
GIVING TUESDAY: A Call to Action from GLAS
November 17 - December 1, 2023
12:00 AM - 11:59 PM
Address
601 S Morgan St, Chicago, IL 60607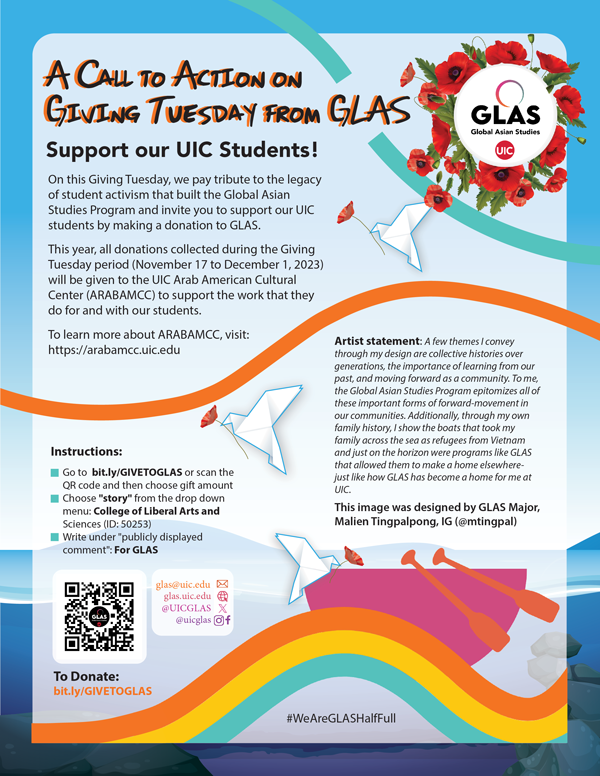 Support our UIC Students!
On this Giving Tuesday, we pay tribute to the legacy of student activism that built the Global Asian Studies Program and invite you to support our UIC students by making a donation to GLAS.
This year, all donations collected during the Giving Tuesday period (November 17 to December 1, 2023) will be given to the UIC Arab American Cultural Center (ARABAMCC) to support the work that they do for and with our students.
To learn more about ARABAMCC, visit: https://arabamcc.uic.edu
Instructions:
■ Go to bit.ly/GIVETOGLAS or scan the QR code and then choose gift amount
■ Choose "story" from the drop down menu: College of Liberal Arts and Sciences (ID: 50253)
■ Write under "publicly displayed comment": For GLAS
Artist statement: A few themes I convey through my design are collective histories over generations, the importance of learning from our past, and moving forward as a community. To me, the Global Asian Studies Program epitomizes all of these important forms of forward-movement in our communities. Additionally, through my own family history, I show the boats that took my family across the sea as refugees from Vietnam and just on the horizon were programs like GLAS that allowed them to make a home elsewhere-just like how GLAS has become a home for me at UIC.
This image was designed by GLAS Major, Malien Ting pal pong, IG (@mtingpal)
Date updated
Nov 16, 2023