Sep
23
2022
Art, Craft, and the Politics of Algorithmic Forms
UIC Art History Colloquium
September 23, 2022
4:00 PM - 6:00 PM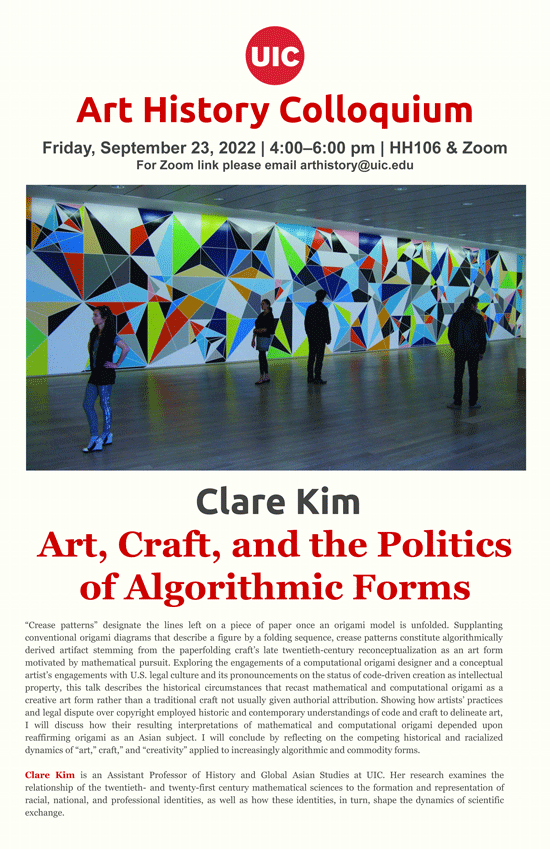 "Crease patterns" designate the lines left on a piece of paper once an origami model is unfolded. Supplanting conventional origami diagrams that describe a figure by a folding sequence, crease patterns constitute algorithmically derived artifact stemming from the paperfolding craft's late twentieth-century reconceptualization as an art form motivated by mathematical pursuit. Exploring the engagements of a computational origami designer and a conceptual artist's engagements with U.S. legal culture and its pronouncements on the status of code-driven creation as intellectual property, this talk describes the historical circumstances that recast mathematical and computational origami as a creative art form rather than a traditional craft not usually given authorial attribution.
Showing how artists' practices and legal dispute over copyright employed historic and contemporary understandings of code and craft to delineate art, Dr. Kim will discuss how their resulting interpretations of mathematical and computational origami depended upon reaffirming origami as an Asian subject.
She will conclude by reflecting on the competing historical and racialized dynamics of "art," craft," and "creativity" applied to increasingly algorithmic and commodity forms.
Contact
Art History Department
Date updated
Sep 20, 2022