GLAS 230: Cultural Politics of Asian American Food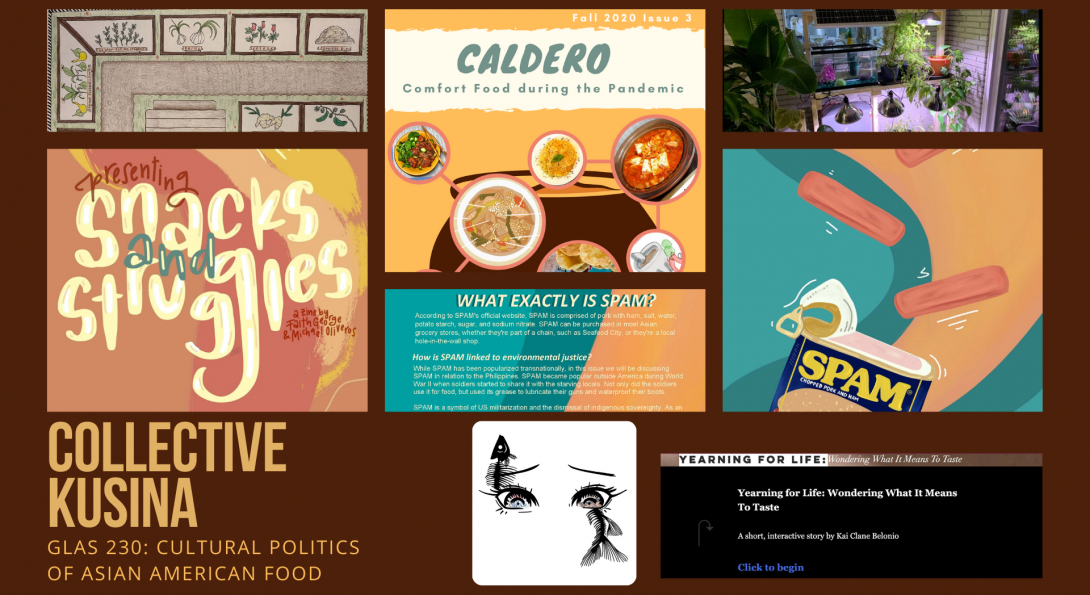 Instructor: Anna Guevarra PhD | Fall 2020
This exhibit features various creative works that reflect the ways in which food serves as a means of building community, telling stories, and collectively imagining how to connect people through food. The first set of projects entitled "The Collective Kusina" (collective kitchen) represent various creative works – from a zine documenting the politics of a beloved snack, an interactive online story, an online art gallery exploring the cultural politics of food, to a video showcasing a DIY self-sustaining indoor household farm, and a community garden blueprint. The second project is the 3rd edition of the Caldero Cookbook (Pandemic Edition), which contains the students' pandemic "comfort food and recipes as well as those shared by guest chefs in class.
Caldero Cookbook: Third Edition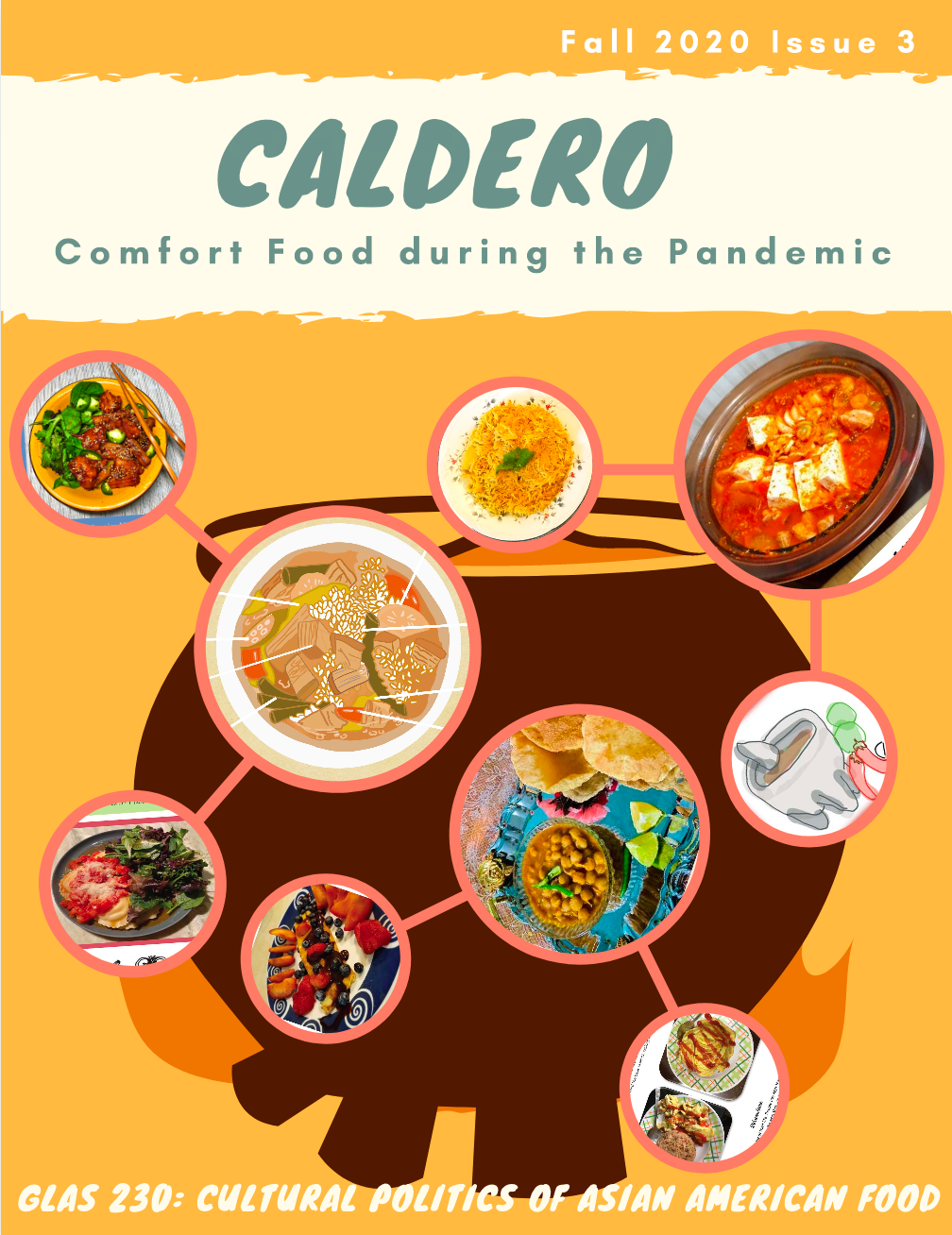 This is a collective cookbook containing "comfort food" recipes that students turned to during the Pandemic. It also contains recipes shared by various guests during the semester as well as artwork that student-produced artwork.
Click HERE for the full project in pdf.
"Plant Some Sh*t Sustainable Farm" by Jan Raphael Sagun
This is a video showcasing a DIY self-sustained indoor household farm. This indoor garden has LED grow lights that are powered by solar, and has an aquarium to reuse the water to feed the garden with nutrients. The garden itself enables you to sustain yourself or your household. Now this in no way will have you fully sustainable food wise (not yet), but it does offer a start to being able to grow your own food in any setting. The solar array and fish tank brings sustainable energy, as you get "free" electricity, and you can use the nutrient rich (to the plants) fish water to hydrate your plants. You'll need to sustain the fish with food and heating.
Jan Raphael Sagun is a graduate student in Engineering.
"Snacks & Struggles" by Faith George and Michel Oliveros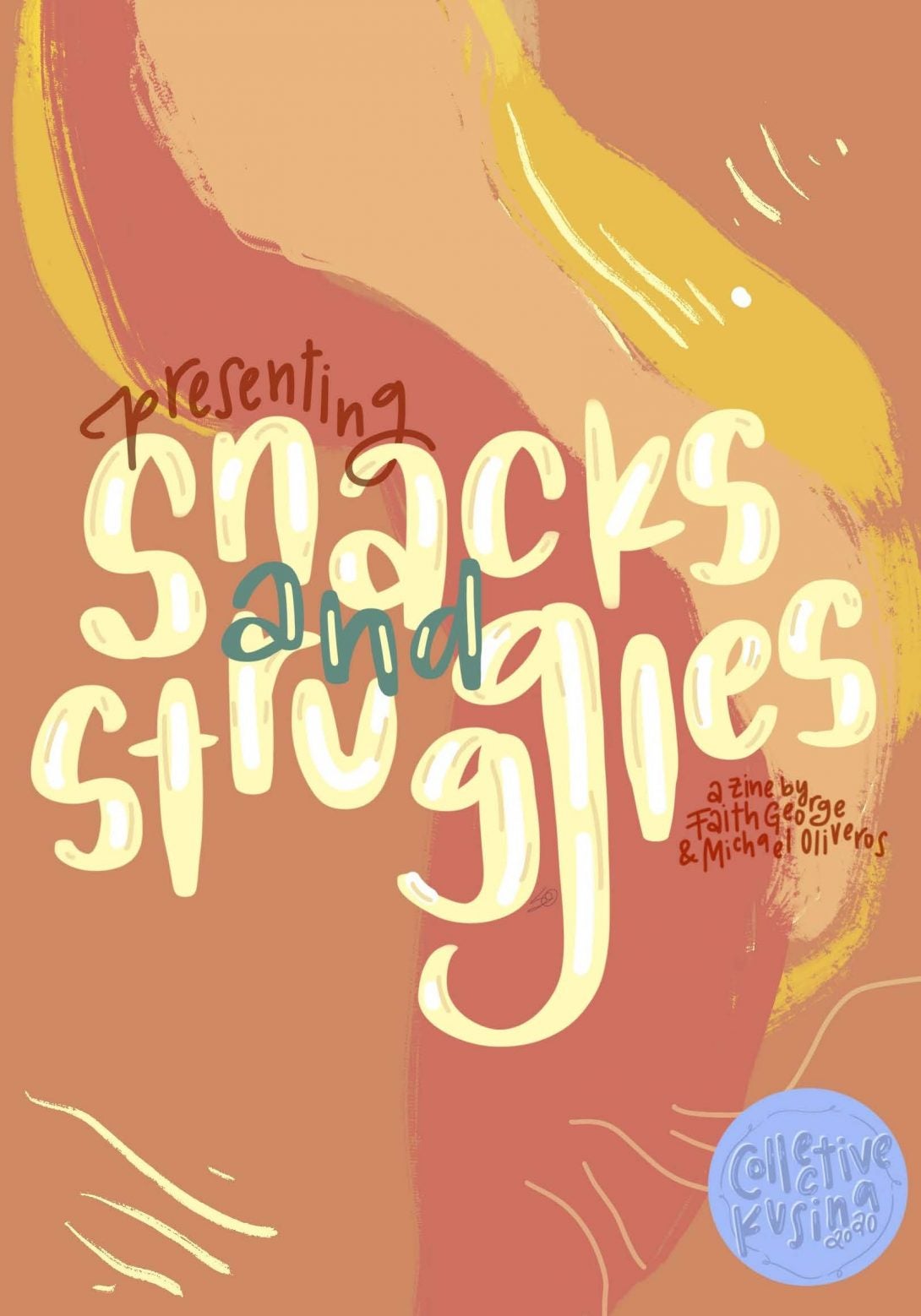 A virtual snack bar discussing the relationship between some of our beloved snacks and environmental justice issues.
Michael Oliveros (they/them) is majoring in GWS, minoring in Global Asian Studies on the pre-med track.
Faith George is a majoring in Neuroscience and minoring in Global Asian Studies. She hopes to serve her community and practice Medicine in the future.
Click HERE for the full project in pdf.
"A Yearning for Life" by Cai Belonio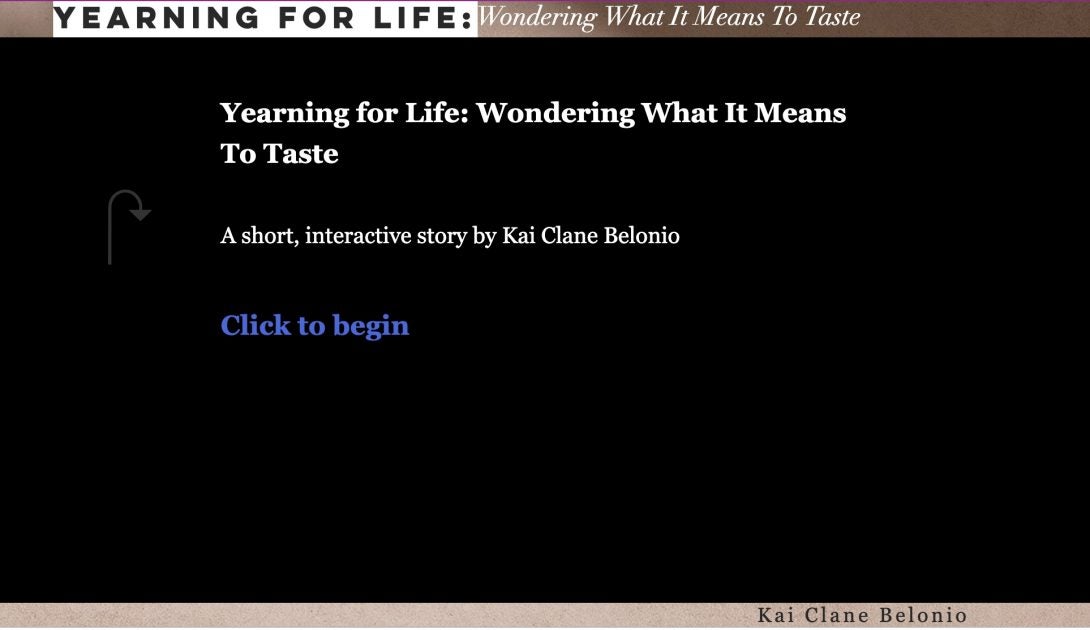 An interactive online story about food and identity.
Kai Belonio is majoring in Biological Sciences and minoring in Global Asian Studies Minor. They are a 1.5 generation Filipino-American trying to live life to the fullest.
Click HERE to engage with this interactive story.
"Colonialism-Fighting Crops" by Angie Martino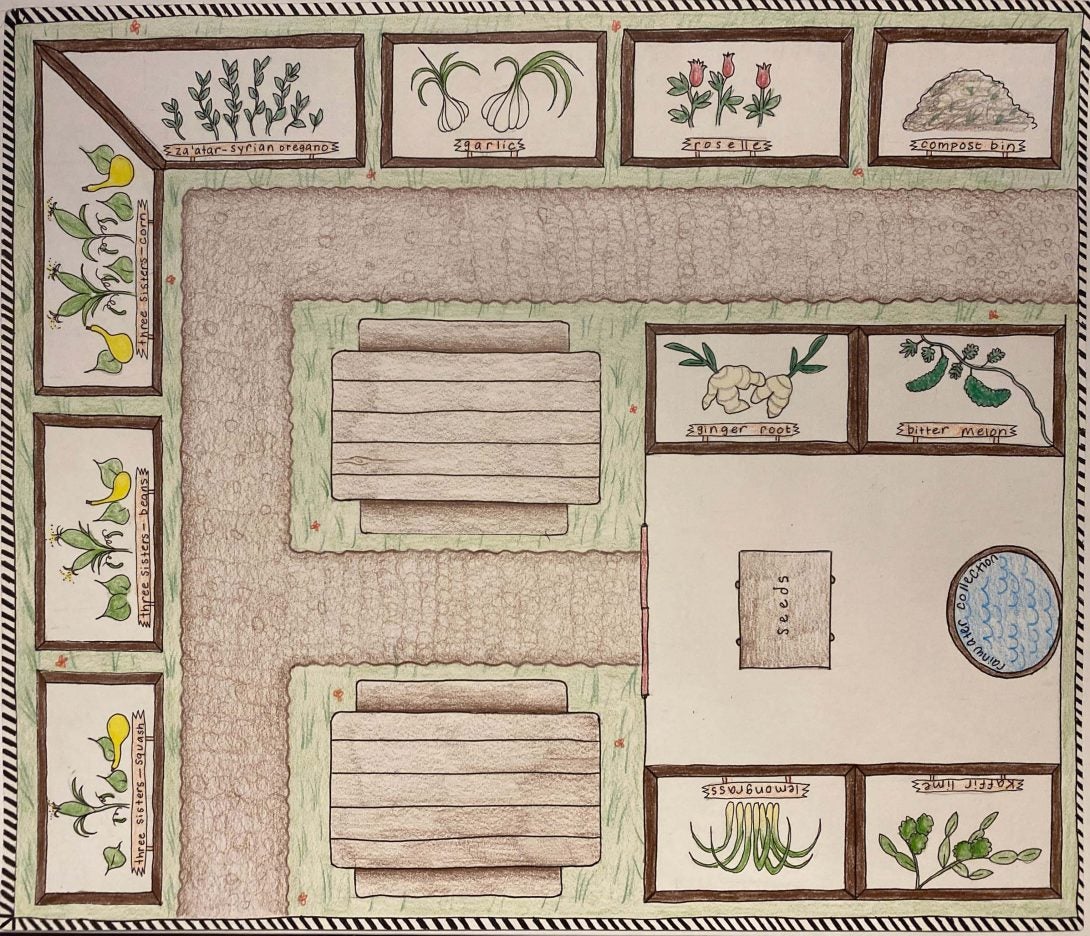 A blueprint for a community garden.
Angie Martino is a senior majoring in Biological Sciences.
Click HERE for the full project in pdf.
"Are you really gonna eat THAT?" by Gabrielle Angeles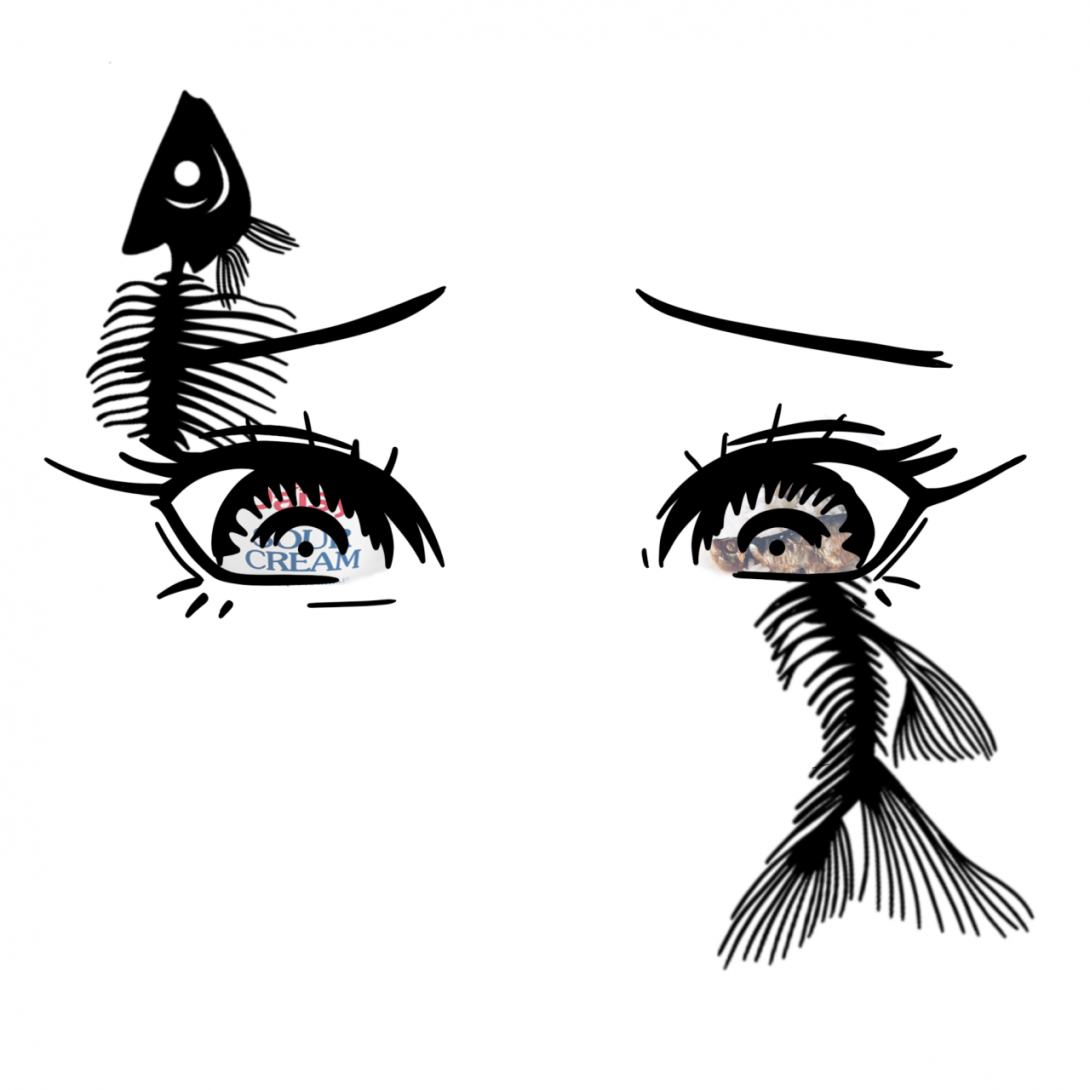 A Tumblr exhibit representing the cultural politics of food, link to the site forthcoming.
Gabrielle Angeles is majoring in Communication and minoring in Global Asian Studies.