GLAS Holds Fundraiser for "The Global Asian Studies Prize" Featuring the Caldero Cookbook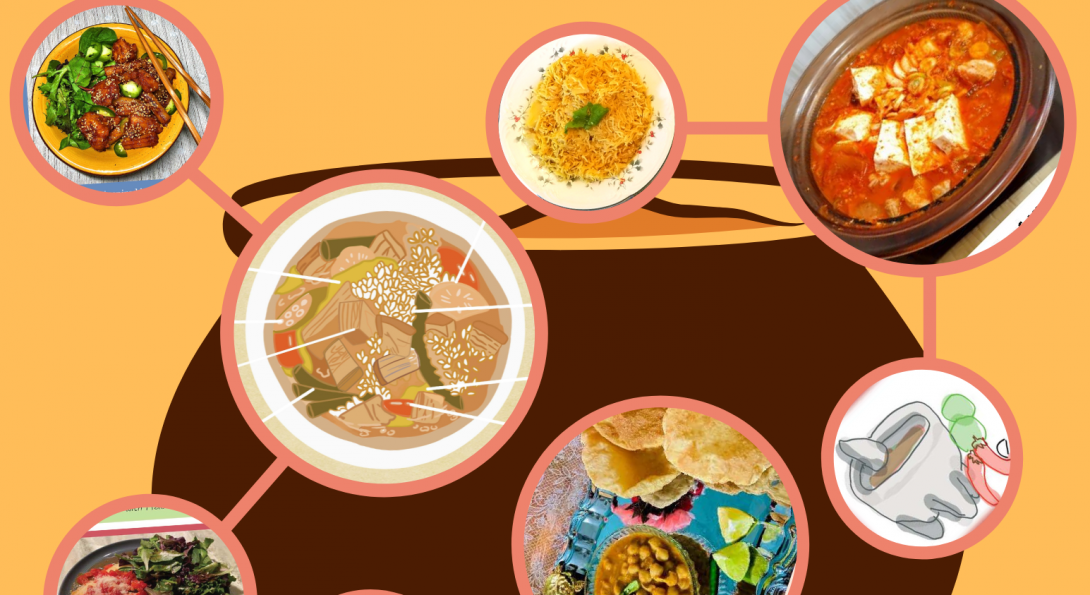 The Global Asian Studies Program shares a gift and an announcement of a fundraiser for a new student prize in Global Asian Studies to recognize student excellence called GASP – The Global Asian Studies Prize!
As part of the GLAS 230: Cultural Politics of Asian American Food class that Dr. Anna Guevarra teaches, she and her  students collectively produced a cookbook at the end of each course. This fall 2020, they put together a book entitled "Caldero Cookbook - Pandemic Edition (third issue)" with a compilation of family recipes that reflect students' comfort food during the COVID-19 Pandemic. Included in these pages are students' reflections, memories, and artwork. Recipes range from Malabar biryani, Nalysnyk Ukrainian delight, chicken mole, kimchi jjigae (aka the 'fatal red slurp'), summer sauce & fresh pasta, vegan sinigang (vegetable sour soup), Puntuuztei huurga, a fusion recipe like pollo a la gochujang and many more!
There are also recipes and stories generously shared by community members who participated in the class as our guest chefs:
UIC alumna Jane Minnelli Escarez's sourdough bread starter
Flor Clarito and Jerry Clarito's Filipino Pinakbet (summer vegetable medley)
Chef Iyad Owen-Elia of @sahteinpreserves Mini Maqloubeh
Chef Joseph Fontelera of @booniefoods' Filipino Bringhe
UIC Anthropology students Shilpa Menon, Ritu Ghosh, Sravanthi Dasari's Kerala Beef Fry alongside a reading list on food politics of caste and cultural nationalism in India
UIC English and GLAS faculty, Professor Mary Anne Mohanraj of @serendib_kitchen's Eggplant sambol
Ginger Leopoldo and Larry Leopoldo of Circa Pintig's Lugaw and Salabat (rice porridge and ginger tea)
Chef Jasmine Sheth of @tasting_india's Meen Pollichathu (steamed fish inside a banana leaf topped with pineapple chutney).
We share this gift with all of you, which you can view and download from the link below.
If you are able to, or are moved to support this kind of work, we  invite you to make a donation to the UIC Global Asian Studies program. Any and all contributions is welcome. Your donation will go towards raising funds to start The Global Asian Studies Prize (GASP) to recognize student excellence in GLAS, which we hope to inaugurate when we become a degree program in 2022.
To view and download the cookbook: http://bit.ly/CalderoCookbookIssue3
The link to donate electronically: https://give.las.uic.edu/units/glas/ (please choose the "Global Asian Studies fund").
Modified on March 01, 2022