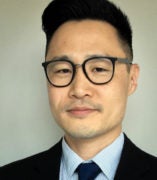 Michael Jin, PhD
Assistant Professor
Global Asian Studies and History
Contact
Address:
601 S Morgan St.
Office Phone:
Email:
Related Sites:
About
Michael Jin is an Assistant Professor of Global Asian Studies and History. He is also a member of UIC's Diaspora Studies Cluster. His research and teaching interests focus on migration and diaspora studies, transnational Asia and the Pacific Rim world, Asian American history, critical race and ethnic studies, and historical memory.
In 2018-2019, Prof. Jin is a Faculty Fellow at UIC's Institute for the Humanities. His current book manuscript, Citizens, Immigrants, and the Stateless: The Making of a Japanese American Diaspora in the Pacific, examines the transnational migration of 50,000 U.S.-born Japanese Americans who traversed multiple national and colonial borders in Asia-Pacific before, during, and after World War II. His work has been published in a variety of scholarly venues, such as Critical Ethnic Studies Journal and The Routledge Handbook of Asian American Studies. He has received grants and fellowships from the Japan Foundation and the University of California Pacific Rim Research Program, among others. Prior to joining UIC, he was a visiting scholar at Ritsumeikan University in Kyoto, Japan and an assistant professor of history at Texas A&M University-Corpus Christi.
Prof. Jin teaches Introduction to Global Asian Studies, Asian American Histories, and The Pacific Rim in Modern History. In 2018, he received the UIC Honors College Faculty Fellow of the Year award for excellence in teaching and mentoring. His recent research awards include the College of Liberal Arts and Sciences Dean's Award for Faculty Research in the Humanities (2017-2018) and the Faculty Fellowship from UIC's Institute for Research on Race and Public Policy for 2018-2019 (declined).
Education
PhD History, University of California, Santa Cruz
BA International Relations, History, and Political Science, University of Wisconsin-Madison