LAS Undergraduate Research Initiative (LASURI)
Renae Mijares Encinas | Supervised by Dr. Gayatri Reddy
Conducting research under the guidance of a dedicated faculty member, a student awardee strengthen his/her/they academic skillset and opens important pathways for self-realization and future professional success. It gives the student an exciting opportunity to learn more about oneself, academic talents, and  future professional potential.
When students conduct research in a partnership with faculty, they develop strong working relationships with peers and professors, gain confidence in their ability to work independently and in groups, develop important analytical and communication skills, and gain key insights about post-college opportunities and pathways.
The SRO Story: Tracing the Rise and Fall of Single-Room Occupancies in Uptown, Chicago Heading link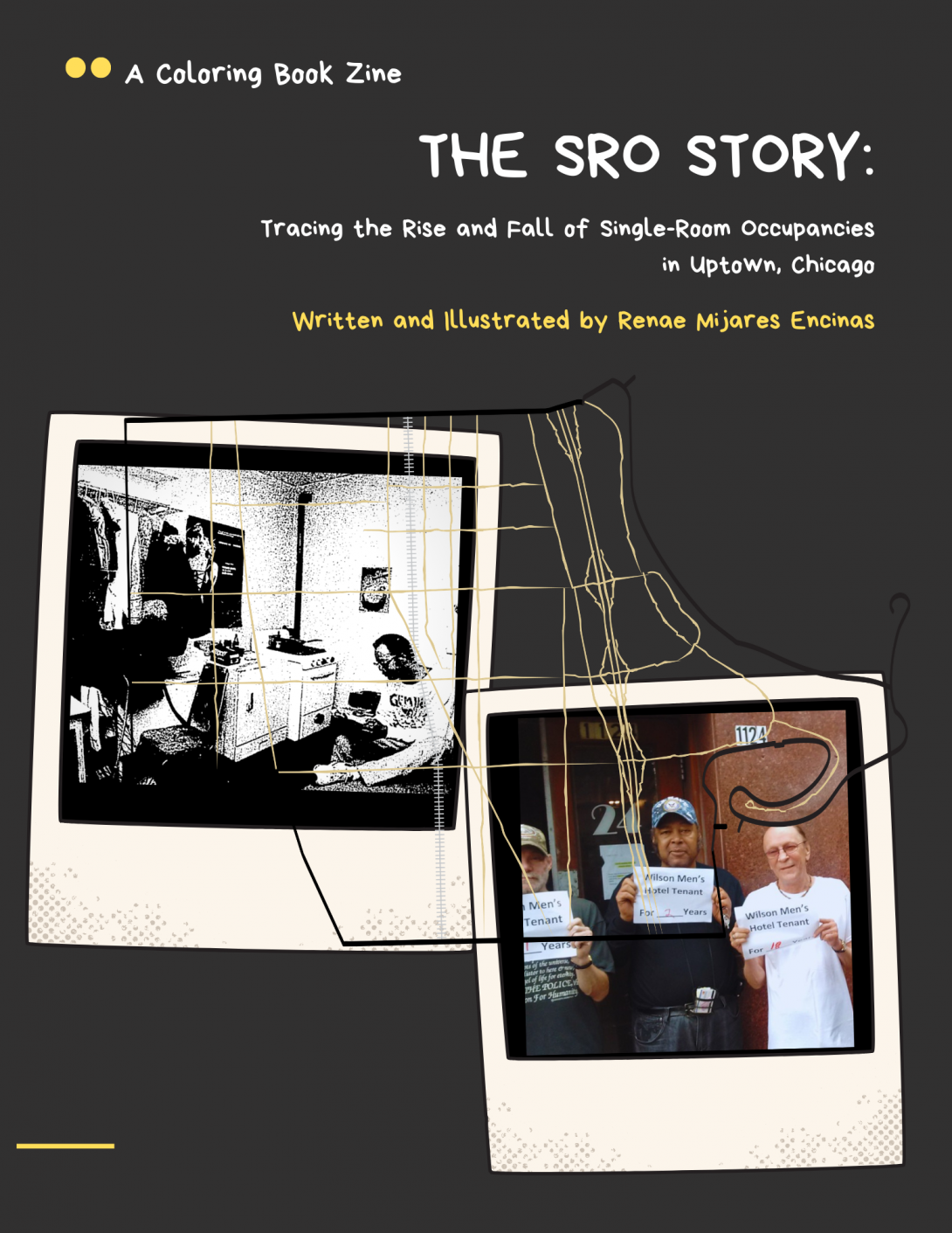 A Coloring Book Zine
Written and Illustrated by Renae Mijares Encinas
This coloring book zine documents the histories of Single-Room Occupancy (SROs) hotels in Chicago, focusing on Uptown, given its high concentration of SROs, unique social landscape which brings together low-income people from multiple racial/ethnic groups, and ongoing resistance to displacement. It contextualizes the forces behind the rise of SROs which primarily housed the growing low-income, migrant, laborer, and elderly populations during the early twentieth century and postwar period (Wong, 2019). Moreover, it addresses the rapid decline of SROs by tracing urban renewal initiatives of the 1960s to 1980s to current day gentrification. During the urban renewal era, one million units were lost nationwide, while Chicago lost eighty percent, or 70,000 units(Grabar, 2019; Ionova, 2013). Since 2008, Chicago has lost more than half of its SRO buildings, dropping from 113 to 58 in 2019 (Newitt, 2018). Neoliberal policies effecting urban renewal and gentrification have not only deprived low-income and marginalized peoples of affordable housing, but also of food, medical care, and mental health resources, as the decline of SROs has also coincided with government cuts to public health, social services, and welfare (Bowen, 2015; Newitt, 2019). By illustrating SRO resident and housing organizer voices, this coloring book demonstrates the vital and indispensable role of SROs as a lifeline of affordable housing, social services, and community.
Through this interactive coloring book, I hope that readers can help bring the SRO story to life by coloring-in the illustrations and incorporating their own experiences and reflections to the topics addressed. Drawing from Uptown resident, organizer, and historian Paul Siegel, the SRO story is one of Uptown's many submerged traditions that are hidden beneath decades of attempts to destroy them completely. As such, the little research, data, and narratives regarding SROs that are available are often extremely limited and detached from the lives, voices, and perspectives of SRO tenants themselves. This project is a living, work-in-progress that will only continue to come more alive as it reflects more tenant and community voices.
View the full project here: https://storymaps.arcgis.com/stories/22f76332079e448a9aa4457f7847b265