GLASsy Faculty Newz
GLASsy Faculty Newz is a short newsletter that highlights the scholarship, teaching, and community-engaged work of core, affiliated, and visiting faculty in GLAS.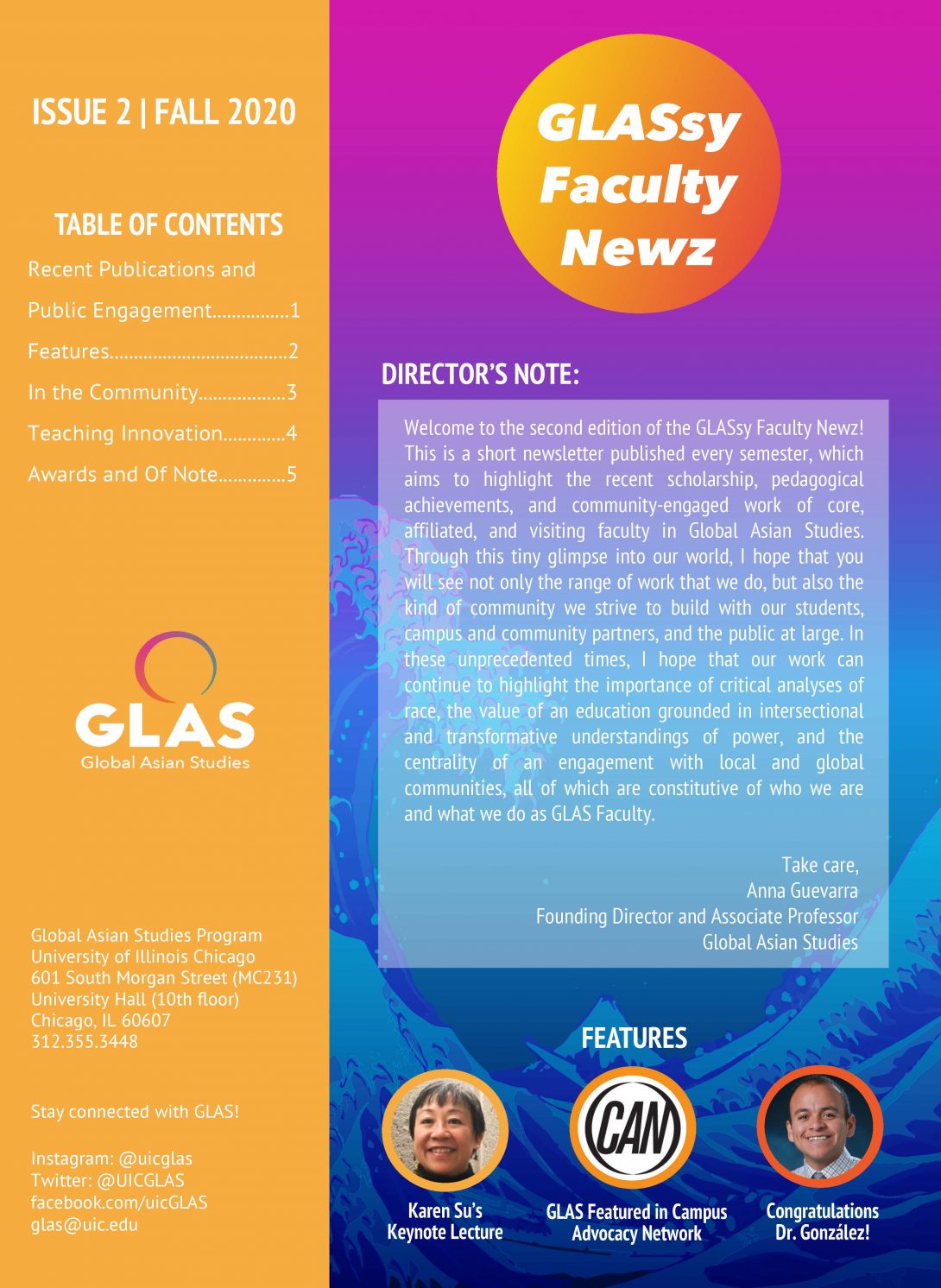 Shout out to all the important work that is happening in our GLAS community with respect to engaging the public!
Drum roll…
August 16,  Mary Anne Mohanraj did a very cool cooking segment from her cookbook, Serendib which was featured on local TV! And you don't want to miss out on the kale sambol recipe!
September 1, Mark Martell's work on exploring the racialized experiences of Asian American male students is one of the chapters featured in this upcoming edited volume, Teaching to Close the Achievement Gap for Students of Color: Understanding the Impact of Factors Outside of the Classroom.
September 20, Karen Su was featured as one of the faculty members featured by  the UIC bonfire – the only UIC student-run newspaper.
September 28, Michael Jin was quoted on an article published by the National Trust for Historic Preservation article regarding the heartbreaking Harada House in California which represents the long history of anti-Asian exclusionary policies and the impact on a Japanese American family.
September 30, Nadine Naber just published an important OpEd in Ms. Magazine on her work with mothers of victims of police brutality. Also check out her blog on radical mothering for abolition!
September 27, Anna Guevarra did a 30-minute lightning teach-in with the UIC-Anakbayan student organization on the Philippines' labor export program.
We have a couple of projects that have recently been funded!
July 1, Anna Guevarra and Gayatri Reddy received a COVID-19 Rapid Response Policy and Social Engagement Fellowship (PSEF) from the UIC Institute for Research on Race and Public Policy for a project, "Pan de Mic Stories: Tracing the Impact of COVID-19 on Filpino/a/x careworkers in Chicago.
August 4, Nadine Naber received a Civic Engagement Research Award from the UIC Institute for Policy and Civic Engagement for her project, "Integrating Mothers of Color into Policy Processes on Prisons and Immigration"
Congratulations everyone!