Dis/Placements: A People's History of Uptown Project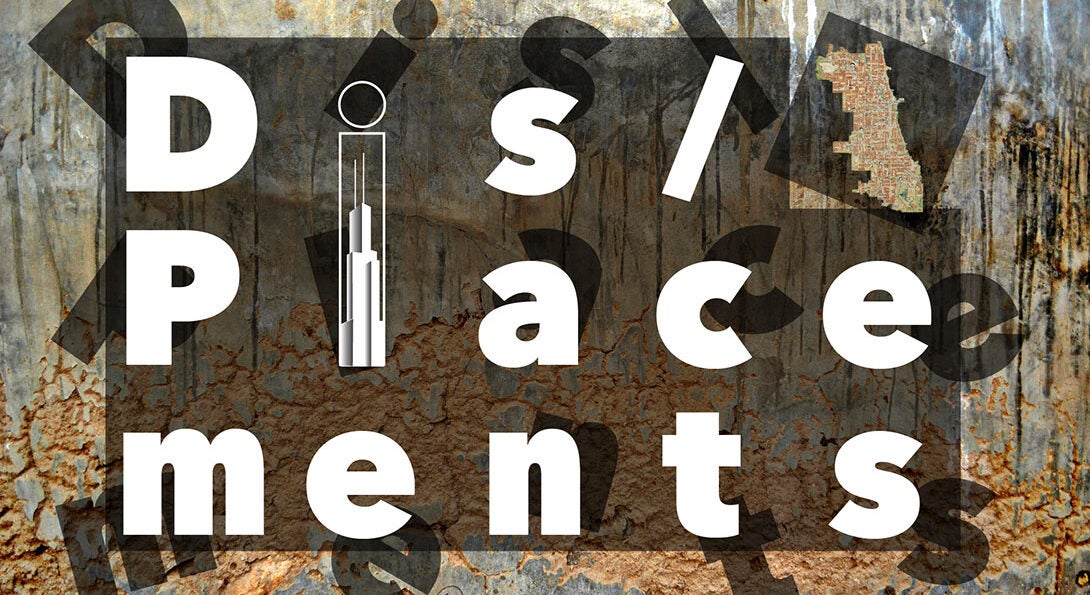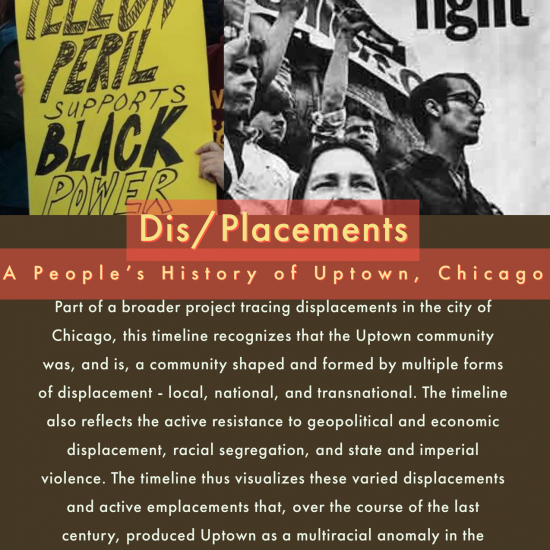 Dis/Placements: A People's History of Uptown, Chicago Heading link
Co-PIs: Anna Guevarra and Gayatri Reddy
The larger project brings together scholars, students, and community members to create a city virtualization project that traces the histories of displacements in the city of Chicago. The project begins  with one of the most vibrant and diverse neighborhoods in Chicago – Uptown, with its incredibly rich history of multi-racial organizing and resistance. The project intends to create a three-dimensional/virtual reality storytelling platform – encoding spatial, historical, and ethnographic/sensorial data – that capture the struggles and resilience of these neighborhoods, as well as their complex transnational and multi-racial histories. Student-produced digital stories based on oral history narratives with community members, material/built environment and social histories of the neighborhood, as well as primary documents will be mapped on to this platform, generating a living archive of cumulative and collaborative knowledge. Come be a part of this project – share your pictures, tell your stories, write your histories!
Learn More
Featured Student Work from the GLAS 300: Global Asia in Chicago Course Heading link
These digital stories represent work done throughout the semester as students conducted oral histories and fieldwork – engaging with the community of Uptown and learning from its current and former residents, community organizers, and business owners.
Deconstructing the American City: Uptown

Oral history narrator: Kim Jeffries is a 55 year old African American woman born in Hyde Park and moved to Uptown in 1983. She is actively involved in the Northside Action for Justice and is on the Local School Council (LSC) of the Uplift Community High School in Uptown, chicago.

Storyteller: Jane Minnelli Escarez graduated UIC in 2019 with a major in Communication and a minor in Global Asian Studies. An aspiring social media organizer/ influencer, she wanted to use her skills in social media to agitate the youth with latest memes and tirades about the System. Otherwise, she also loves to bake and collect journals for her poems. She may just open a cafe for the LGBTQIA community in the future because she wants to have more non-alcoholic space for QTs of Color. "I get LIT on my own terms."

GLAS 300 Instructor and Faculty Mentor (Spring 2019): Dr. Anna Guevarra

Have a Cup of Coffee with Me

Storyteller statement:

"This is a story about the people of Argyle. In viewing my digital story, I hope you will learn about and come to appreciate the diverse, often complex, history that lies beneath, within, and between Argyle. These stores can be found anywhere from the grocery store, the pho, the bakeries, and even the train station. The Argyle/Uptown area represents to me a variety of hidden narratives that are often not shared in the larger narrative of the place.  Specifically, I look into "First Sip Café," Argyle's first coffee shop. The shop is owned by Gigi and Erin Hoang, 1.5 generation Vietnamese Americans. In visiting their place, I got a deeper sense of their goals, aspirations, and dreams as they continue to run their business.

Produced by Elena Guzman in GLAS 300: Global Asia in Chicago course, Spring 2018

Elena Guzman graduated UIC in 2019 with a major in English Education and  a minor in Global Asian Studies. She enjoys drawing, reading, and visiting different restaurants in her free time

Oral History Narrator

Erin (Ngan) Hoang is a 1.5 generation Vietnamese American who migrated from Vietnam in 1997. She is the co-owner of First Sip Cafe on Argyle Street, whose "accidental vintage" decor and imaginative drinks make it into a welcoming space for all creative minds.

GLAS 300 instructor and faculty project mentor: Anna Guevarra

The Garden: A Story of Growth in Uptown

Storyteller Statement:

This is a story about community growth and change in Uptown, from the perspective of an Uptown resident that highlights an important moment of change in his youth that he witnessed, but did not fully understand at the time. The process of gentrification and transformation of urban communities changes social dynamics and affects the  growth of a particular place. As the community garden symbolizes, gentrification can impact a community significantly. 

Produced by Vivian Jin, in GLAS 300: Global Asia in Chicago course, Spring 2018

Digital Storyteller:

Vivian Jin graduated from UIC with a Biology major and a Global Asian Studies minor. Vivian actively participated in undergraduate research, TEDx, Peer Health Exchange, and the GLAS Student Advisory Board. In her free time, Vivian can be found drinking iced coffee, exploring Chicago, and reading anything science fiction. After graduation, she  headed to the  University of Oxford for a Masters in Medical Anthropology and is now at UIC attending medical school.

Oral history narrator:

Kwame Freeman was born and raised in Uptown. He was a former member of the Multi-Cultural Youth Project (MCYP) and eventually organized funding and outreach for a chatbook project called "Struggle of Our Lives." He currently works as a swim and dive coach at Mather High School.

GLAS 300 instructor and faculty project mentor: Anna Guevarra