Career Information
Careers in the 21st Century Heading link
Careers in the 21st Century
Global Asian Studies (GLAS) courses are thought provoking, engaging, practical, and even entertaining. They provide a broad, interdisciplinary base of knowledge on Asian and Asian American cultures, histories, and politics, while tackling such contemporary issues as labor, transnational migration, Asian diasporas, and the global economy.
UIC graduates in GLAS are prepared to enter the workforce with skills in analysis, research, action, and communication.
Working in the fields of Advocacy, Social Services, Health, Education, Government, and Media, GLAS graduates are prepared for jobs in any field where a familiarity with Asian and Asian American communities and issues will help you to stand out from the crowd.
PURSUE A GRADUATE CAREER IN ANY FIELD!
Find Jobs in these Professions

•   Relations
•   Counseling
•   Teaching
•   Social Work
•   Legal Advocacy and Civil/Human Rights
•   Media and Communications
•   Community Organizing and Activism
•   Art and Performance
•   Journalism
•   Writing
•   Healthcare and Medicine
•   Public Health and Public Policy
•   International Relations
•   Radio, TV, Film, and Music
•   Environmentalism
•   Community Education
•   Religious Leadership
•   Local, State and Federal Government
•   Research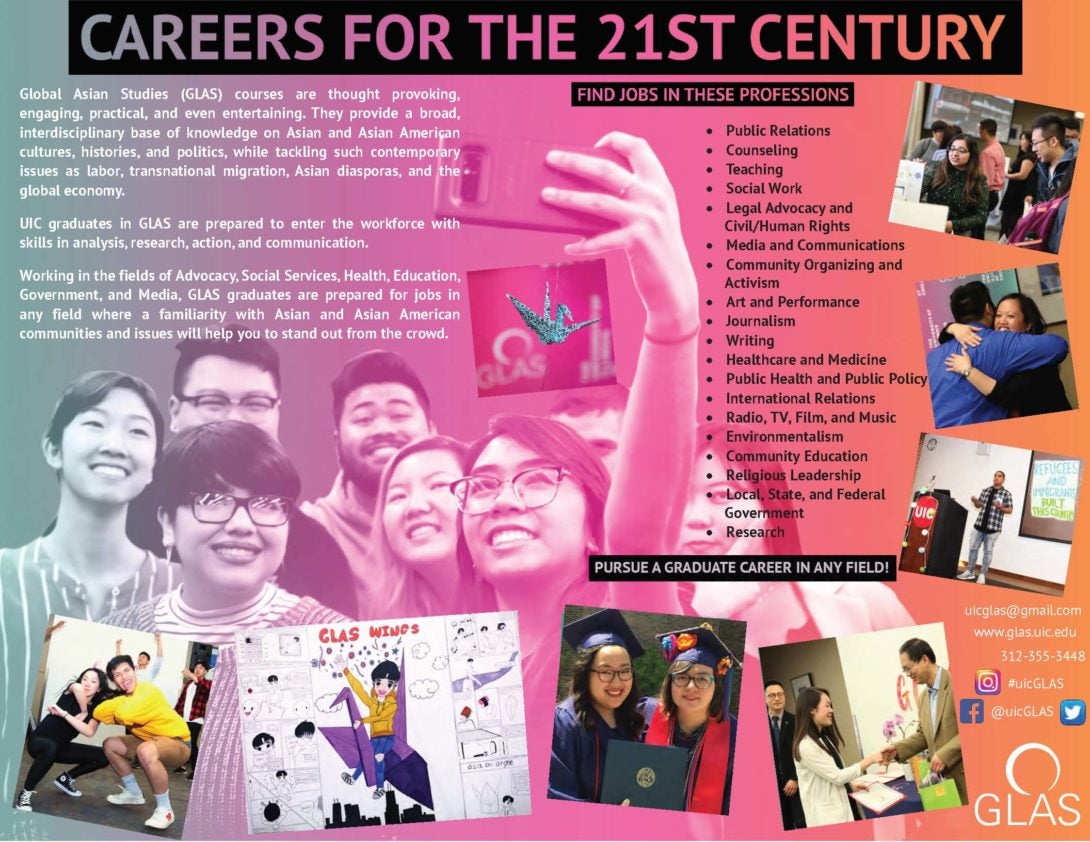 For more information, contact Dr. Anna Guevarra, guevarra@uic.edu