Global Asian Studies Prize (GASP)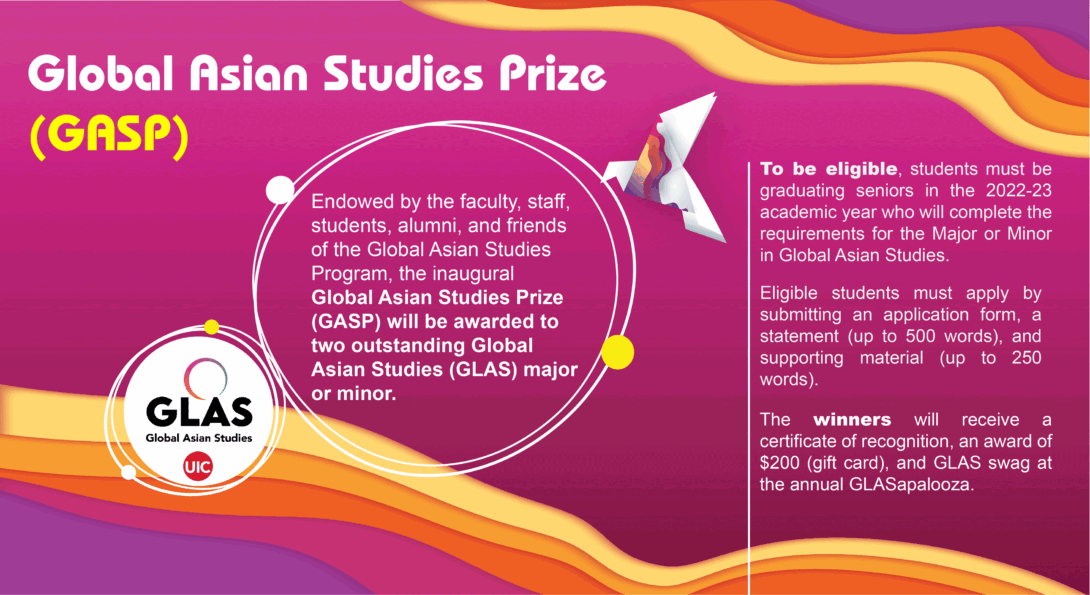 Endowed by the faculty, staff, students, alumni, and friends of the Global Asian Studies Program, the inaugural Global Asian Studies Prize (GASP) will be awarded to two outstanding Global Asian Studies (GLAS) major or minor.
The prize will recognize the student's commitment to supporting the mission of the Global Asian Studies Program through their academic work and their engagement with the campus and/or Chicago community.
To be eligible, students must be graduating seniors in the 2022-23 academic year who will complete the requirements for the Major or Minor in Global Asian Studies by May 2023 with a cumulative grade point average of 2.5 or higher.
The winners will receive a certificate of recognition, an award of $200 (gift card), and GLAS swag at the annual GLASapalooza in April 2023.
Eligible students must apply by submitting an application form, a statement (up to 500 words), and supporting material (up to 250 words) by March 31, 2023.
To submit an application, click HERE.