Coming Soon in Fall 2022: B.A. in Global Asian Studies (GLAS)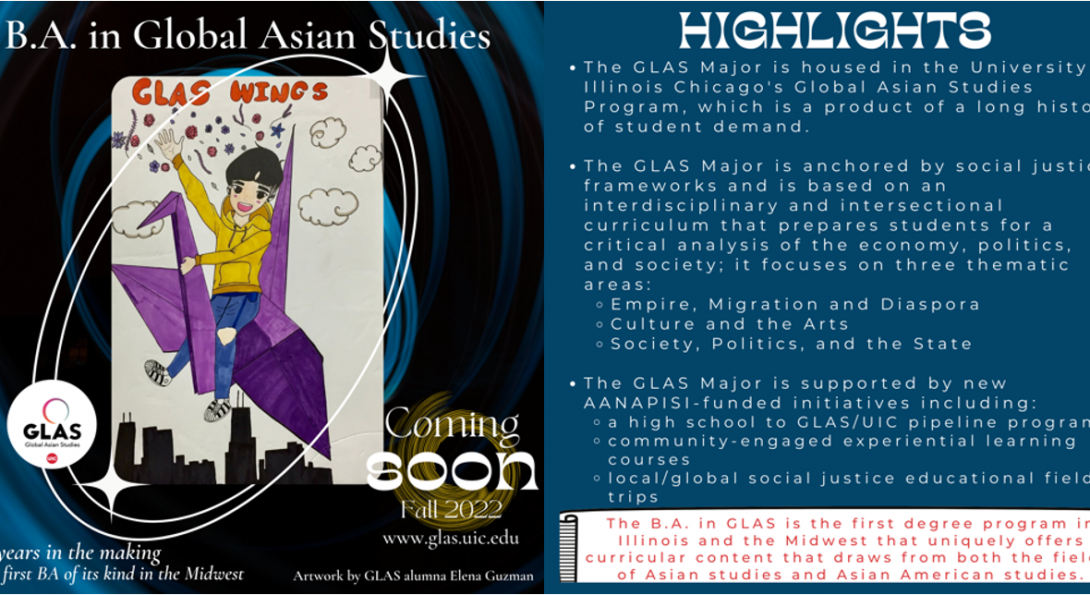 A Message from Dr. Anna Guevarra, Founding Program Director of GLAS
I'm delighted to share with all of you the exciting news that the B.A. in Global Asian Studies has been approved by the Illinois Board of Higher Education last December 2021. This is the final step for the implementation of the Major.
On behalf of GLAS, I want to take a moment to thank all of you for supporting the program and helping us reach this important milestone.
As you know, our program is a product of a student-led movement ("Asian American Movement") that began thirty years ago when students called for a curriculum that spoke to their lived experiences and needs, including an academic unit. This is a product of those efforts, and those of all the students who came after them, who continued to lead this movement. We are proud of this history and uplift this legacy in our research, teaching, and program-building work.
This has been an incredibly long journey for the program and on behalf of the GLAS faculty, staff, and students, I thank you for the long-standing an sustained support and advocacy you have provided to GLAS. Special thanks to our students, alumni, and various community leaders who wrote letters of support for our proposal to become a Major. We could not have done this work without all of you.
Please stay tuned for the launch of the Major in Fall 2022 and for a series of exciting events including a symposium "Breaking Boundaries: Pedagogies of Global Asia," which will feature GLAS's curricular and pedagogical work in conversation with colleagues and students at other institutions. This symposium will be held from April 7-8 2022 and it is in collaboration with the premier interdisciplinary journal,  Verge: Studies in Global Asias, Pennsylvania State University's the Global Asias Initiative, Association for Asian Studies, Simon Fraser University, and the Luce Foundation.
Modified on September 07, 2022