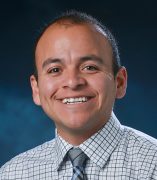 Fredy González, PhD
Associate Professor
Global Asian Studies and History
Contact
Address:
601 S. Morgan St.
Email:
About
Fredy González is an Associate Professor of Global Asian Studies and History. His research focuses on Asian diasporas in Latin America, particularly on the Chinese diaspora. Before coming to UIC, Professor González was a professor of Latin American history at the University of Colorado Boulder, where he also taught courses on immigration history.
His first book, Paisanos Chinos: Transpacific Politics among Chinese Immigrants in Mexico, was published in 2017 with the University of California Press. His articles have appeared in the Western Historical Quarterly and the PRC History Review, and won the Bert M. Fireman and Oscar O. Winther awards from the Western History Association.
His current project is a global history of the Chinese sworn brotherhood, the Hong Men Chee Kung Tong. A fraternal organization with chapters around the world, the Chee Kung Tong helped far-flung members of the Cantonese diaspora acclimate to their places of settlement. Remembered in parts of the West as a criminal organization, in mainland China it is remembered as the precursor to the China Zhi Gong Party, one of the eight minor parties in the People's Republic of China. Professor González plans to use the history of the Chee Kung Tong to illustrate how different nodes of the Chinese diaspora interacted with each other; political activity and organization among Chinese overseas; and the complicated relationship between Chinese overseas and China and Taiwan.
His work has been supported by a Fulbright Scholar Fellowship in Taiwan, as well as a IIE Fellowship for Graduate Study and a Fox Fellowship in Mexico.
Education
Ph.D., History, Yale University
B.A. History, Political Science, and Italian Studies, UC Berkeley