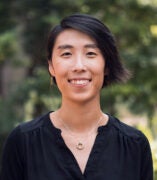 Clare Kim
Assistant Professor
History and Global Asian Studies
Contact
Address:
601 S. Morgan St.
Email:
About
Clare Kim is an Assistant Professor of History and Global Asian Studies. Her work centers on the history of twentieth and twenty-first century mathematical sciences, exploring representations of knowledge and difference in US intellectual and political life.
Her first book manuscript examines how modernist concerns with aesthetic self-reference, axiomatic, and formal experimentations were shaped by mathematicians' exchanges with artists, designers, and social scientists over the twentieth century. Locating these changes alongside shifts in US immigration laws, higher education, and cultural perceptions, she shows how interdisciplinary exchanges, on the one hand, and racial formations such as around Asian and Asian-American identity, on the other, contoured who and what counted as a mathematical subject.
Her second project traces the history of "cryptanalysis" from the First World War through the Cold War. Focusing on the entanglements between scientists and classical philologists over the technical study of ciphers and codes, she examines how changing humanistic and computational practices collectively participated in military intelligence work and became embedded in ideas about security.
Kim's research has been supported by the National Science Foundation, MIT Center for International Studies, and Notre Dame Institute for Advanced Study. Before joining UIC, she was a Mellon Postdoctoral Fellow in Modeling Interdisciplinary Inquiry at Washington University in St. Louis. She received her PhD from the Program in History, Anthropology, and Science, Technology, and Society at the Massachusetts Institute of Technology.
Education
Ph.D in History, Anthropology and Science, Technology and Society (HASTS), 2019
Dissertation: The Subjects of Modernism: Mathematics, Art, and the Politics of Value in Twentieth-Century United States
Massachusetts Institute of Technology (Cambridge, MA)
Certificate, Digital Traces Summer Laboratory: Meta-Morphologies of the City, 2016
European University at St. Petersburg (St. Petersburg, Russia)
B.A. History with Honors, 2011
Brown University (Providence, RI)