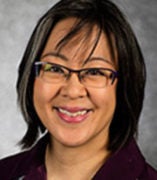 Corinne Kodama, PhD
Visiting Research Assistant Professor
Global Asian Studies
Contact
Address:
601 S Morgan St.
Office Phone:
Email:
About
Corinne Kodama is a former Research Specialist for the Asian American Native American Pacific Islander Serving Institutions (AANAPISI) project and Visiting Lecturer at the University of Illinois at Chicago.  She has served in both faculty and administrative roles at UIC, DePaul University, and Loyola University Chicago.  As a scholar-practitioner Dr. Kodama has worked both in academic and student affairs, including counseling/higher education faculty, multicultural affairs, undergraduate admissions, career services, and assessment.
Dr. Kodama's research has focused on the leadership development of racially diverse populations, commuter and transfer student issues, and Asian American student and identity development which has been published in book chapters and peer-reviewed journals including the Journal of College Student Development, Journal of Student Affairs Research and Practice, Journal of Diversity in Higher Education, Journal of College Student Retention, and Review of Educational Research.  She is co-editor and contributor to Bridging Research and Practice to Support Asian American Students (New Directions for Student Services, 2017), a follow up to Working With Asian American Students (NDSS, 2002), the first sourcebook of its kind for college educators.
Dr. Kodama was the founding Associate Director of UIC's Asian American Resource and Cultural Center, has served on the Board of Advisors for the Midwest Asian American Students Union (MAASU), and is a reader for the Asian Pacific Islander American Scholarship Fund. She has received numerous awards for her work, including the UIC Student Affairs Division Outstanding Academic Professional, NASPA Region IV-East Research Award, ACPA Asian Pacific American Network Outstanding Contribution to Research, and runner up for the NASPA Melvene Hardee Dissertation of the Year.
Education
PhD Higher Education Administration, Loyola University Chicago
MA College Student Personnel, University of Maryland
BA University of Washington