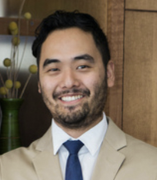 Hideaki Noguchi, MS
LAS Departmental Advisor
College of Liberal Arts & Sciences
Pronouns: He/Him/His
Contact
Building & Room:
8th Floor University Hall
Address:
601 S. Morgan St., Chicago IL 60607
Office Phone:
Email:
About
Hideaki serves as the departmental advisor for the Global Asian Studies minor program and uses pronouns he/him/his. As an academic advisor, he helps students plan their courses, discuss potential professional opportunities and post-graduation options, while also providing resources and support throughout one's undergraduate career. Hideaki is a proud first-generation college student, Asian-American, and earned his MS in Higher Education Administration from the University of Wisconsin-Milwaukee, MFA in Creative Writing from Columbia College Chicago, and BA in English from Northern Illinois University. He has been an advisor at UIC since 2016 and loves being a part of the UIC and GLAS community! If you have any questions at all, please don't hesitate to reach out and/or make an advising appointment.