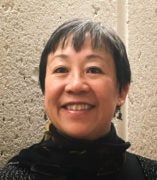 Karen Su, PhD
Clinical Assistant Professor
GLAS Director of Undergraduate Studies
Global Asian Studies
Contact
Address:
601 S Morgan St.
Office Phone:
Email:
About
Karen Su serves as the Principal Investigator and Project Director of the UIC AANAPISI Initiative. The Initiative encompasses a total of four grants spanning from 2010-2026, providing $7.1 million to support the enhancement of programs and activities that improve the educational outcomes and experiences of Asian American, Pacific Islander, English language learner, and low-income undergraduate students at UIC. The UIC AANAPISI Initiative is fully funded by the U.S. Department of Education's Asian American and Native American Pacific Islander Serving Institutions Minority Serving Institutions grant program.
Prof. Su teaches GLAS 120 (Introduction to Asian American Studies), GLAS 263 (Asian American Gender and Sexual Diversity), and coordinates and teaches the GLAS off-campus internship practicum. She helped to create GLAS 105 seminars for the Asian American Mentor Program and for GLAS on-campus internships. She also co-taught a Study Abroad course to Japan in summer of 2014, Crosscurrents of American and Japanese Cultures, with Visiting Prof. Laura Fugikawa.
In her creative work, Prof. Su focuses on children's picture books featuring Asian American life stories. She was awarded the 2022 Many Voices Prize by the Society of Children's Book Writers and Illustrators Illinois. In 2018, she was selected to be a nonfiction mentee for the We Need Diverse Books mentorship program and she was chosen to be part of a mentorship group led by award-winning children's book author Maya Gonzalez in 2017.
Prof. Su has been at UIC since 2004 and was the founding director of the Asian American Resource and Cultural Center (AARCC). She established many of the first Asian American Studies initiatives through AARCC before ASAM became an official program in 2010, such as the Introduction to Asian American Studies course, the ASAM Advisory Board, ASAM Lecture Series, ASAM Knowledge Bowl, and ASAM Expo. Prof. Su has been recognized for her service to UIC with the Award of Merit in 2008, the Chancellor's Academic Professional Excellence (CAPE) Award in 2010, and the College of Liberal Arts and Sciences Service Award in 2022.
Prior to UIC, Prof. Su was the founding director of the Pan-Asian American Community House and the assistant director of Asian American Studies at University of Pennsylvania. She has also taught or developed Asian American Studies and student programs at New York University, Mills College, Temple University, Northwestern University, and the University of Chicago.
Education
BA in English literature and Chinese studies – Mount Holyoke College
MA in Chinese literature – Stanford University
PhD in English literature – UC Berkeley