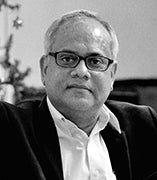 Sanjeev Vidyarthi, PhD
Associate Professor
Urban Planning and Policy Program
Contact
Building & Room:
217 CUPPAH
Address:
412 S Peoria St.
Office Phone Voice:
(312) 355-0309
Email:
About
Sanjeev's research interests include ideas and actions in the domains of spatial planning and design, planning history and theory, globalization and international planning. He studies who does (and should do) the planning work and some of the differences these efforts make. His project involves helping actors and communities make better plans that bridge the many divides in society and improve the quality of urban life
Studying, working and living in a variety of urban settings across many parts of the world has shaped Sanjeev's commitment to the field of spatial planning. He grew up in a Nehruvian-era industrial township near the pretty but rather remote city of Udaipur in Northwest India. He met the 'megacity' while attending the J.J. School of Architecture at Bombay. Sanjeev next joined his college friends at Jaipur, a princely city planned in the 18th century, and together they went on to establish the leading architectural practice of the Rajasthan state. Employing well over 40 people in the mid-1990s, their studio designed a diverse range of projects in different contexts including Madras, Delhi, and Muscat. His practice also helped organize the state's first architecture and planning school in which he served as the founding chair. Shortly afterward, Sanjeev became curious about the meaning and purpose of his own work and headed to the graduate school. He lived in the college towns of Leuven, Belgium and Ann Arbor, Michigan while pursuing a Master of Human Settlements and a Master and a Ph.D. in Urban and Regional Planning respectively. He came to the University of Illinois at Chicago in August 2008. He now lives at a walking distance from Frank Llyod Wright's home and studio in Oak Park and a short drive away from Fredrick Law Olmsted's planned community of Riverside. He studies how to make better plans for places.
Courses
UPP 304 Visualizing the City
UPP 308 Globalization in Urban and Public Affairs
UPP 500 The History and Theory of Planning
UPP 505/506 Plan-Making Workshop
UPP 521 Globalization and International Planning II: Comparative Planning and Policies
UPP 550 Spatial Planning and Design: Theoretical Foundations
Selected Publications
Vidyarthi, S. "Building A 'World class Heritage city': Jaipur's Emergent Elites and New Approach to Spatial Planning," in Gavin Shatkin, ed. Contesting the Indian City: Global Visions and the Politics of the Local (West Sussex: Wiley-Blackwell, In press).
Vidyarthi, S., Hoch C. and C. Basmajian "Making sense of India's spatial plan-making practice: Enduring approach or emergent variations," Planning Theory and Practice 14.1 (2013): 57-74.
Vidyarthi, S. "Indianizing the Neighborhood Unit: The Jawahar Nagar Plan," in Nihal Perera and Wing-Shing Tang, eds. Transforming Asian Cities: Intellectual Impasse, Asianizing Space, and emerging translocalities (New York: Routledge, 2013).
Vidyarthi, S., C. Winkle, J. Smith, K. Kawamura, T. Zhang and C. Hoch "Holistic, Inclusive and Practical: Teaching Plan-making at the Core," Town Planning Review 83.6 (2012): 625-645.
Vidyarthi, S. "Inappropriately appropriated or Innovatively indigenized? Neighborhood unit concept in post- independence India," Journal of Planning History 9.4 (2010): 260-276.
Vidyarthi, S. "Reimagining American neighborhood unit for India," in Patsy Healey and Richard Upton, eds. Crossing Borders: International Exchange and Planning Practices in Royal Town Planning Institute Library Series (London: Routledge 2010).
Inivted Lectures & Commentary

"One Idea, Many Plans: An American Design Concept in Independent India," Invited lecture in the Contemporary issues in Planning and Design Lecture Series at the College of Design, Iowa State University, October 15, 2012.
"Spectacular Subversion or Unique Urbanism: Planned Neighborhoods, Informal Settlements and Spontaneous Transformations," Invited lecture given at Parsons, The New School for Design, New York, April 12, 2012.
"Neighborhood Unit in Independent India," Invited talk presented at the Graduate School of Design Harvard, jointly sponsored by the Department of Urban Planning and Design and the South Asia Initiative, November 9, 2011.
"Planned Neighborhoods and Public Pastiche in Post-independence India," Invited lecture given at the South Asia Seminar Series, University of Chicago, November 4, 2010.
"From Prosaic to Profound: Modern Neighborhoods of Nehru's India," Invited lecture presented in the Csillag Seminar Series in Geography at the University of Toronto, October 27, 2010.
"Informalizing the Formal and Localizing the Global," Invited talk at the Centre for South Asian and Middle Eastern Studies, University of Illinois Urbana-Champaign, April 27, 2010.
"Secondary cities and the World city debate," Invited lecture given in theEmerging Voices Lecture Series at the Taubman College of Architecture and Urban Planning, University ofMichigan, March 25, 2010
"Fetishizing 'World city' status: Jaipur's Global ambitions and Built patrimony," presented by invitation at the workshop Contesting the Indian City: State, Space and Citizenship in the Global Era at the Centre for Studies in Social Sciences, University of Calcutta, March5-6, 2010.
Education
PhD, Urban and Regional Planning, The University of Michigan, 2008
MUP, Urban Planning, The University of Michigan, 2006